Having a fiance with a ice cream addiction is difficult. Okay, maybe conflicting is more the term. Because, while I am not addicted, I definitely have a humongous sweet tooth that doesn't need the encouragement.
Last night; however, after our divine dinner of falafel and kebabs at Cafe Natasha on South Grand, for dessert we decided to stop in at the new icecremaria --
Emack and Bolio's
-- whose banner boasted the slogan, "Ice Cream For The Connoisseur."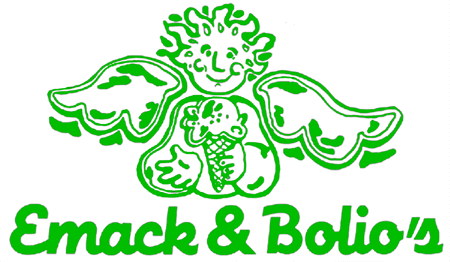 It did not disappoint. Better yet, it made me giddy with delight that my order was nearly fat-free!
I ordered the Key Lime frozen yogurt (made with skim milk and lime juice) ... when I asked for a sample, I was expecting soft serve. Instead, I get a popsicle stick sample jammed with a hard ice cream that is so smooth and creamy and deliciously lime, not to mention full of bits of graham cracker crumbs running through it. In other words, it did not at all give the impression of a frozen yogurt.
Or in other words, a
perfect
frozen yogurt. This is definitely what I order. In a sugar cone, please.
It occurred to us that it was a franchise / chain as we perused the artwork on the walls; which made me more curious about the business, since I really try to stay away from chain food.
On further investigation, it seems to be that the Boston-based company's M.O. is making "socially conscious" treats that contain no artificial ingredients; and every frozen treat is made fresh weekly in the stores.
So while the local mainstay will always be Mr. Ted Drewe's, I'm certainly not above satisfying our household's cravings/addictions over at E&B's again.