This morning, while finalizing a mix for my brother, a bolt of genius struck my brain.
Why not make a time capsule mix for tonight's camping expedition? Say, perhaps, the summer of '98?
GENIUS!
This idea was actually partially sparked by Sirius Faction Thursday afternoon, when I happened to tune in right at the time "Sell Out" started. Volume cranking, and top-o-the-lungs singing ensued; I even contemplated stopping for a pack of Camel Lights for a split-second.
The Summer of '98 was one of my best, probably because it the summer between high school and college, the summer I moved out of my parents' for good, the summer I started working full time hours at Slackers, the summer I saw Pearl Jam from the
front row
at Riverport with my best friend ... so it was my real first taste of "freedom." I was a kid in an adult's world. And it was pretty awesome.
"Turn The Radio Off" was the #1 CD of that summer -- played in the old Corolla through my portable player via tape-deck adapter -- and a close second was Save Ferris' "It Means Everything;" in heavy rotation were also Less Than Jake's "Hello Rockview," Rancid's "And Out Come the Wolves," Sublime's self-titled and Squirrel Nut Zippers "The Inevitable." The hip hop tracks were all Tanya, my college roommate's, influence.
I know it seems like a juvenile mix, and there's so much pop here it kind of makes me cringe sharing it, but what the hell. I can't deny who I was -- who I am still, to a certain degree -- and although the following season was when I delved deep into teenage depression, and discovered the likes of Modest Mouse, Piebald, and the other reaches of indie and emo culture, I can't ignore the fact that even though I was working for the rekkid sto', I was still quite the pop princess.
... and blonde!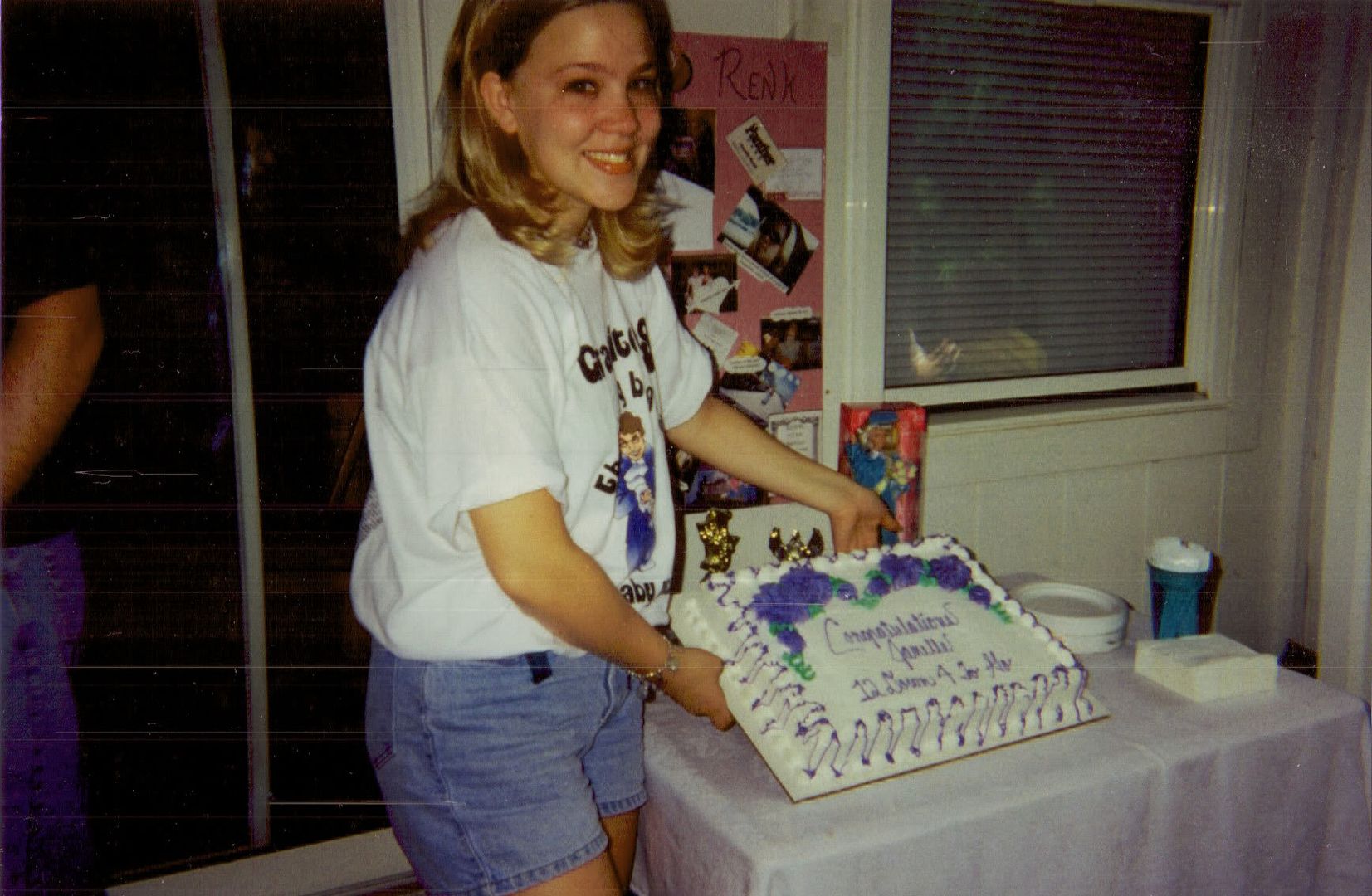 Me in the summer of '98 with my graduation cake.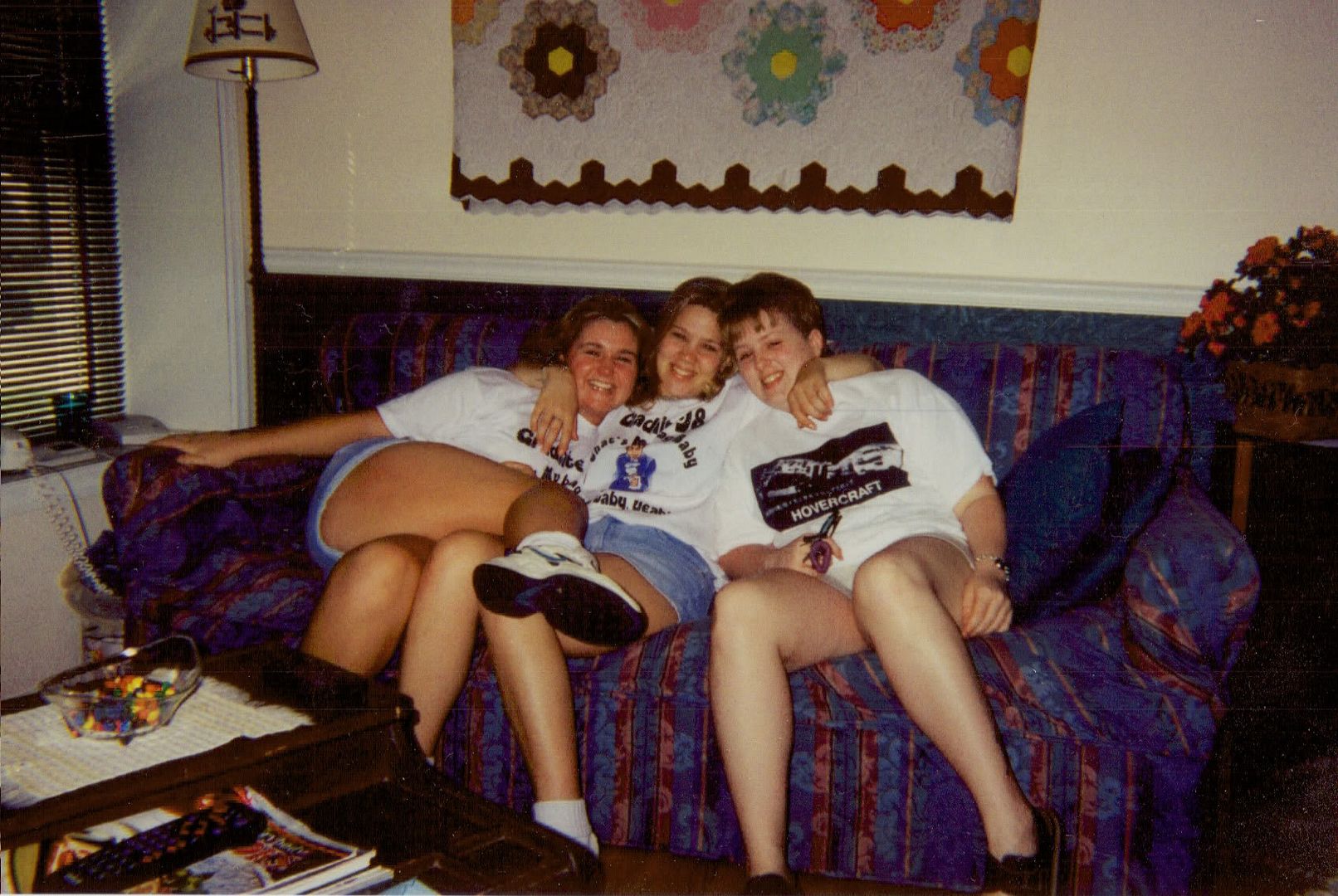 My college roommie Tanya, me, and my best friend Kerri.
Summer of '98
Good Enough for Granddad
Squirrel Nut Zippers
Red Sweater!
The Aquabats
Doo Wop (That Thing)
Lauryn Hill
I Can't Wait
Hepcat
Where'd You Go?
The Mighty Mighty Bosstones
You and Me and the Bottle Makes Three
Big Bad Voodoo Daddies
History of a Boring Town
Less Than Jake
Do the Evolution
Pearl Jam
April 29, 1992
Sublime
Ghetto Superstar (That is What You Are)
Pras w/Michel, ODB & Maya
Closer
The Urge
Come On Eileen
Save Ferris
Build Me Up Buttercup
The Goops
Sell Out
Reel Big Fish
Santeria
Sublime
Gone Til November
Wyclef Jean
Pharoah's Dreams
Hepcat
Baby Got Going
Liz Phair
My Skateboard
Aquabats
She Has a Girlfriend Now
Reel Big Fish
All My Best Friends Are Metalheads
Less Than Jake
Roots Radicals
Rancid
This Lonely Place
Goldfinger
So Long-Farewell-Goodbye
Big Bad Voodoo Daddy